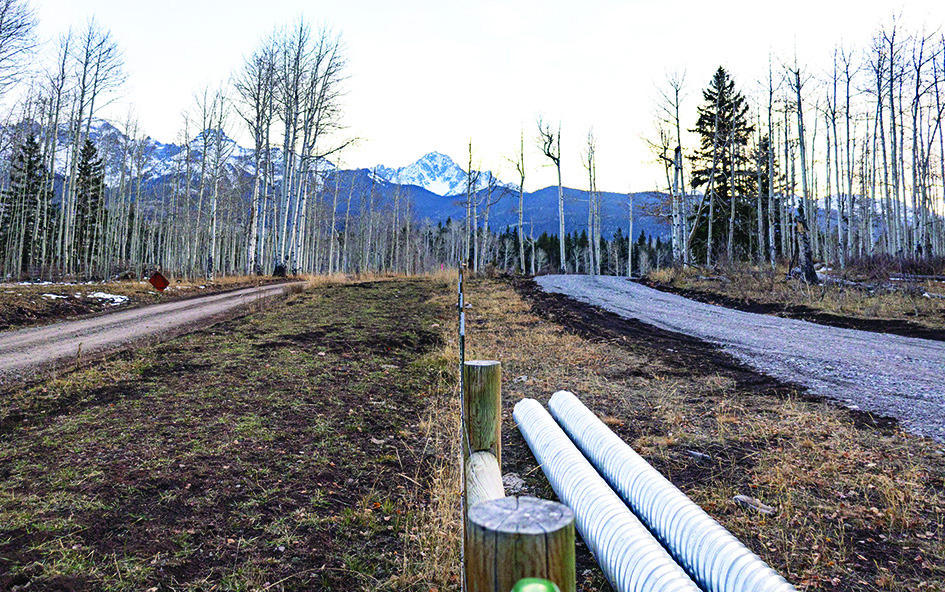 County orders developer to halt illegal construction
Residents say county leaders responded slowly after owner of luxury properties along CR5 built roads without permits
The developer of a string of multimillion- dollar properties south of Ridgway has been ordered to halt construction after he built a series of private roads along the upper section of County Road 5 without obtaining the necessary permits from Ouray County.
County Road and Bridge Superintendent Ty Barger sent an email on Nov. 4 to Ken Juncker instructing him to abide by the county's land use code, which requires developers to submit road construction plans from professional engineers and obtain permits from the county before building roads.
The email from Barger also suggests a private road that was built parallel to County Road 5 may not comply with the county's visual impact regulations and may need to be redesigned or abandoned altogether and revegetated.
"The signatories to this letter agree to cooperatively work together in good faith to ensure all proper permitting, engineering, and impact fees, and other required county approvals," the stop work agreement reads, adding that the county can issue a notice of violation or take other legal action if Two Pair LLC doesn't make "reasonable good-faith progress" to obtain permits and pay impact fees.
Juncker is the registered agent for 2 Pair LLC, the owner of six 35-acre parcels at the far south end of County Road 5. Those parcels are part of a 660-acre swath of land known as Sneffels Vista Tracts, marketed for luxury housing. The other members of 2 Pair LLC, which formed in November 2022, are Juncker's wife, Diane, and Leslie and Eric Musselmann of Montrose, according to Colorado secretary of state records. The Junckers own a home in Montrose but live in Evansville, Indiana.
The stop work agreement was signed on Nov. 4 by Barger and County Manager Connie Hunt, on Nov. 5 by County Attorney Leo Caselli and on Nov. 6 by Ken Juncker and Leslie Musselmann, who is a Realtor.
The stop work order came roughly two weeks after County Road 5 homeowner Eric Faust said he alerted the county about the illegal roads, and several months after he said county leaders knew there was interest in construction on the 210 acres owned by 2 Pair LLC. In an interview with the Plaindealer, Faust accused the county of dragging its feet in enforcing its own land use code and questioned why county leaders didn't act sooner to stop the road construction and ensure the developer complied with the code.
"The county frustrated the living hell out of me because they didn't seem to understand their own land use code, and they didn't want to seem to exercise the control they had," he said. "The issue is they had to very much be pursued by me to do what they've done now." *** The upper end of County Road 5 leads to the Uncompahgre National Forest and scenic views of the Sneffels Range that makes visitors feel as though they can reach out and touch the 13,000- and 14,000-foot peaks.
The 660 acres had been held by the Phillips family for decades — until two years ago when the property was subdivided into 19 35-acre tracts. 2 Pair LLC purchased 6 of those 35-acre tracts in May for $5.5 million, county records show.
Faust said he and other County Road 5 property owners tried but couldn't find a single buyer for the 660 acres who would place it under a conservation easement. After 2 Pair LLC purchased the property, Faust and other members of the Miller Mesa Road Association met with Juncker in June, when Faust said they learned Juncker planned to build a home for himself on one of the six lots and sell off the other five.
The road association grew out of a 2020 legal settlement in which upper County Road 5 landowners agreed to build the Miller Mesa Recreation Trail alongside County Road 5 in exchange for a maintenance agreement that allowed the road association to plow the road to access their homes in the winter past a county-owned locked gate. The agreement also allowed the county to continue to restrict public access on the road during the winter.
Faust said he and other landowners tried to impress upon Juncker how important Miller Mesa is to them, that others had purchased large tracts of land in recent years to stave off development. He said they also made clear they supported his rights to develop the property.
Juncker told members of the road association he wanted to make a donation to improve the upper portion of County Road 5 leading to 2 Pair LLC's property, according to Faust. In addition to collecting a one-time $15,000 membership fee and $200 annual dues from landowners on upper County Road 5, the road association has secured about $360,000 in private donations to improve the upper portion of the road, Faust said.
The 210 acres owned by 2 Pair LLC are located a little more than two miles past the parking area for the Miller Mesa Recreation Trail. The property accesses County Road 5 at three separate locations.
Faust said he gave Juncker a quote to maintain the road adjacent to 2 Pair LLC's property, and he said Juncker pursued his own quote, believing he could secure a lower bid. Faust said the road association pressed Juncker for that quote throughout the summer, but Juncker never provided it.
"The last communication we had was they were going to do what was in their best interests," Faust said.
Barger said he met with members of the road association and 2 Pair LLC in June when the groups were discussing the possibility of 2 Pair LLC making a donation to improve County Road 5. He said the road association withdrew from the negotiations in early July. *** Road construction on 2 Pair LLC's property began in August, according to Faust, despite the fact that the LLC hadn't submitted plans to the county or obtained the necessary permits.
Faust said the county knew as early as June that 2 Pair LLC planned to install infrastructure in advance of homes being built. He said that's when he and other road association members met with Barger in the midst of discussions with Juncker about a potential donation to the road association.
"Ty Barger was aware development was coming," Faust said.
Barger, though, said he was unaware of any interest in private road development during the summer, and didn't know private road work had begun until he received calls from Faust and Elk Meadows resident Helen Bowers in October. At least one other member of the public, Ed Bovy, complained to Barger and County Planning Director Mark Castrodale about the road in early October.
Barger said he met with members of Two Pair LLC the day after Faust submitted a formal complaint and they agreed to stop new road construction until they obtained a permit.
Meanwhile, belly trucks loaded with gravel drove up and down County Road 5 throughout the late summer into fall. Leslie Musselmann, who owns Vision Real Estate Investments, is selling the lots for nearly $1.7 million each. Her website claims there's only one lot left for sale.
Faust said he also called Commissioner Lynn Padgett in late October to discuss his concerns. He said she told him she had been up to the property a couple weeks earlier, leading him to wonder why the county didn't order road construction to stop sooner.
Padgett told the Plaindealer she noticed the road construction on 2 Pair LLC's property earlier in October while taking pictures of the fall colors but wasn't sure it violated the county's land use code. She said after her call with Faust she emailed Caselli to get county staff 's interpretation of Faust's complaint and the land use code.
After another conversation with Barger, Faust filed a formal citizen complaint on Oct. 23 with Castrodale, pointing out the roads within 2 Pair LLC's property weren't built to county standards.
"Specifically, roads are single lane with one hairpin turn that appears impassable for a large vehicle like a fire truck, topsoil is not being removed but only leveled, road base is not being applied and compacted — essentially gravel is just being dumped on the ground to create a narrow 'road,'" he wrote in his complaint.
He also noted that 2 Pair LLC had built a new road running parallel to County Road 5 that, in some places, was within 10 feet of the Miller Mesa Recreation Trail. He claimed the new road had a detrimental visual impact on County Road 5 and the recreation trail and "is completely unnecessary" because County Road 5 accesses the property.
Faust called the parallel road "an atrocity."
"How can you have all the focus and all the input and then for two months this construction goes on unchecked?" he said. "This guy's carving up the forest and nobody (from the county) is asking questions."
Juncker didn't respond to multiple requests seeking comment. Reached by phone Monday, Musselmann said she couldn't talk. She said she thought the stop work order hadn't been signed yet, and she also questioned how the Plaindealer obtained a copy of the order, which is a public document. She didn't respond to follow-up requests for comment.
*** After filing his formal complaint, Faust and Bowers appeared before commissioners on Nov. 7 to repeat their concerns.
"How do they possibly begin and execute two months of construction on Miller Mesa without consulting with the Land Use Department or the land use codes?" Faust asked of 2 Pair LLC. "It's just thinkable to me."
He said he appreciated the county issuing a stop work order but acknowledged he had "a concern with the oversight moving forward. There's no public involvement in the submittal process."
Bowers said she's concerned that hundreds of truck trips on County Road 5 took place this summer and fall without any fees being paid to account for the impact to the road.
"I just don't want this process to be minimized any further, and I hope county road construction standards will not be diluted in the forthcoming process," she said.
She told the Plaindealer she and Faust aren't opposed to development on Miller Mesa. They just want it done right.
"We respect private property rights. What we want is for (Juncker) to be held to the same standard as if he had gone in and got a (road construction) permit."
Caselli, the county attorney, noted during last week's commissioners' meeting that 2 Pair LLC had "done the right thing" by signing the stop work order and hiring an engineer to assist with road construction.
Commissioner Jake Niece took issue with that.
"The developer didn't do the right thing," Niece countered. "They're asking for forgiveness rather than permission. Now that they've been caught, they're wanting to play ball."