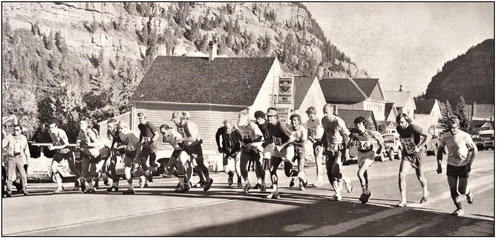 Imogene Pass Run turns 50
Started by accident in '73, popular Ouray-Telluride race is Saturday
When Rick Trujillo first ran over the Sneffels range from Ouray to Telluride in August of 1974, he never expected to chart what would become one of Colorado's most famous mountain races. In fact, the event was accidentally created only after he was left stranded on the wrong side of Imogene Pass that fateful day.
Now half a century later, the Imogene Pass Run will happen for the 50th time when 1,500 runners will navigate the trail's gurgling mountain streams, rugged cliff faces and 13,114-foot peak on Saturday. The longtime Ouray resident who started it, never imagined it would become this popular.
When the now 75-year-old Trujillo took up mountain running as a high school freshman in the spring of 1963, the sport was still niche and Colorado's mountain trails were devoid of runners. This year, participants filled the famed alpine race's 1,500 available spots within 13 minutes after registration opened on June 1 at 6 a.m. It was the fastest that's ever happened, according to Trujillo.
That popularity is a far cry from the days when he would have to scour Colorado, the United States and the rest of the world to find mountain races to compete in.
"In the (1970s) I would meet somebody on my trail runs here once every two or three years. There was nobody on the trails, and it was such a rare occurrence (to see someone) that I would stop and talk to them," Trujillo said. "Now if I don't see anybody, that's something to take note of."
Trujillo never set out to create a mountain running event.
As he ran up Camp Bird Road toward Imogene Pass, he only intended to train for Colorado Springs' Pikes Peak Marathon. His friend Ernie Andersen borrowed Trujilo's beat-up Jeep and was supposed to meet him in Telluride with the vehicle so he could return to Ouray.
Andersen was nowhere to be seen, and an exasperated Trujillo roamed Telluride's mostly empty streets with nothing but a sweaty shirt, jogging shorts and tennis shoes. At the time, the town was an unknown commodity with around 550 residents — a far cry from today's bustling extravagance.
"If you said Telluride, someone would say, 'Telluride who? Telluride what? What the heck is a Telluride?' There was nobody in Telluride. It was just a rundown mining town at the end of a dead-end road," Trujillo said.
That's when he bumped into Jerry Race and Jim Gowdy, both local alpine runners and cross-country skiers he knew, on Main Street. Trujillo now had someone to recount his day's achievement while he waited for Andersen, who had gotten lost in Yankee Boy Basin, to drive around the Sneffels Range and pick him up.
A few weeks after Trujillo first summited Imogene Pass, Race called him with a plan. Race and the Telluride Chamber of Commerce would host a race following Trujillo's path toward the end of September in conjunction with the "Coloride."
While they didn't realize it at the time, the first annual Imogene Pass Run — known as the Ouray-Telluride Marathon back then — was born as six men gathered in Ouray on Sept. 29, 1974.
It was a brisk morning, and the sextet lined up at the intersection of Main Street and Fourth Avenue under a clear sky to see who could complete the 17.1-mile course first. Unsurprisingly, Trujillo — one of the world's top mountain runners at the time — finished first, running from Ouray to Telluride in just over two hours and 21 minutes.
As Trujillo remembers it, the event grew the next year purely by word of mouth. Ten people, including the first woman, Cynthia Wright of Silverton, gathered at the same spot. Participation mostly grew year over year from there.
More than 100 people participated for the first time in 1982, while more than 1,000 people participated for the first time in 2002. The race now caps registrations at 1,550 for participants' and volunteers' safety due to the course's rugged nature.
Matt Carpenter of Colorado Springs set the men's course record of two hours, five minutes and 56 seconds in 1993. Keri Nelson of Gunnison set the women's course record of two hours, 35 minutes and 59 seconds in 2009.
This year's race begins at 7:30 a.m. Saturday and the start line is at the intersection of Main Street and Fourth Avenue in Ouray.