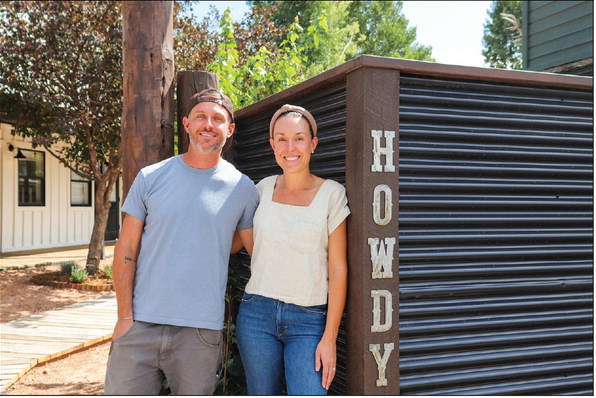 Saddle up to Ridgway's newest hotel
Hotel Palomino blends ranching heritage with modern amenities
Siblings Merlyn Ellis and Zack Young are no stranger to the hospitality industry. Their family has owned and operated hotels and resorts around the world, including Ridgway's Chipeta Lodge in the past.
Now, the brother/sister duo is stamping their own mark with Ouray County's newest hotel: Hotel Palomino.
"It's sort of like the next generation conceiving of a different type of hotel model, because that's really where our expertise was. But with a simpler business model, to cater to the needs of this region," Ellis said.
"You know, we're not Telluride. Telluride is commanding $400 to $500 a night for rooms.
(Ridgway) is a place to come and be active and enjoy the region."
Currently, rooms at the Hotel Palomino start at $239 and go up to $279, depending on the room's capacity.
Billing itself as a "modern-day hitching post for the weary Western traveler," Hotel Palomino, which officially opened on Aug. 11, includes 12 Western- themed rooms featuring a modern twist. The rooms feature antique furnishings such as lamps, rustic wooden chairs and worn leather chaps, with cowhide rugs adorning polished hardwood floors.
Ellis and Young said they designed the rooms this way to pay homage to Ridgway's rich ranching history. They partnered with the Ouray County Ranch History Museum and John Wayne Cancer Foundation to curate the decor, including artwork from locally renowned artist and "True Grit" set designer Robert "Bob" DeJulio.
Guests have access to energy- efficient appliances, sustainably sourced personal care products and filtered drinking water.
The hotel also offers contactless check in and provides guests with regional guides that show all Ouray County and the San Juan Mountains have to offer.
That balancing act between the past and present may seem paradoxical, but for Ellis and Young, it's about giving travelers the experience they expect while cutting out what they perceive as unnecessary amenities.
The siblings also plan to include a restaurant — owned by Marty Frank and named after executive chef Bill Greenwood, who previously ran the restaurant at the Madeline Hotel in Telluride — that will both provide room service and serve the general public. While a final menu isn't yet publicly available, Ellis said the restaurant will feature "rustic alpine cuisine with a southern flair."
Potential menu items may include Southern biscuit sandwiches, steaks, tacos and salads. Ellis added the restaurant tentatively plans to open sometime within the first two weeks of October.
The process of getting Hotel Palomino to this point has taken nearly a year. When the series of commercial buildings previously known to locals as Trail Town came on the market, Ellis and Young couldn't resist the opportunity.
When they bought the property last August, it needed plenty of work. At the time, it was retail space containing a vape store, print shop, bakery, and dog groomer, among other businesses.
The siblings developed the hotel by upcycling and restoring the property, as the old-school Western-style facade enchanted them.
Renovations, primarily replacing most of the building's electrical system and plumbing up to code, took around nine months to complete. Despite the siblings' previous hospitality industry experience, that work wasn't easy. Shifting construction timelines hampered their ability to determine when they could open the property.
"It was pretty run down. It was kind of a forgotten zone of town. And we grew up frequenting this as teenagers. We had friends whose parents had shops in here and whatnot," Young said. "So I think that was part of the fun of it, to snag something that was a kind of a historical part of town and for our childhood."
Despite that, being able to welcome guests and see their reaction has made the process completely worth it for Ellis.
"That's certainly what excites me, creating a place for folks to have unique experiences when they travel. And I think this qualifies as not your everyday hotel experience," she said.
Hotel Palomino is located at 150 Palomino Trail in Ridgway. There are no set business hours since guests check themselves in and out. Visit hotelpalomino. com for more information.
Daniel Schmidt is a journalist with Report for America, a national service program which helps boost reporting resources in underserved areas. To make a tax-deductible donation to fund his work, contact erin@ouraynews.com.