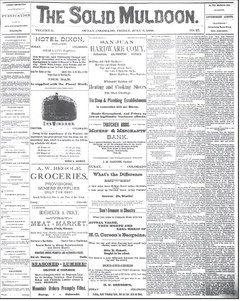 July 4, 1888: A holiday to remember — and forget
Ouray has long had a boisterous and festive holiday to celebrate the Fourth of July, as is evidenced by the newspaper accounts of the patriotic holiday from years past.
One of these was printed in 1888 in The Solid Muldoon, which was established in 1879 in Ouray by David F. Day.
What follows is a part of its account of Ouray's Fourth of July celebrations from 135 years ago, published on July 6, 1888. Note the colorful language and the placement of newsworthy items in the story. (It's what ...