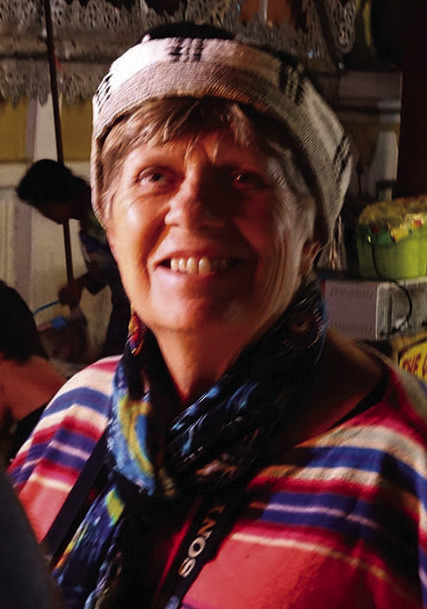 Obituaries
November 15, 2023
Sara Tetting
Aug. 28, 1942-Oct. 27, 2023
Sara A. Tetting was born August 28, 1942, and raised on a farm in Stanwood, Iowa.
Her parents, M. Wayne Rowser and Tony Rowser, were singers; in fact her father, with his "Bing Crosby" type voice, not only sang in church choir, but as a young man he and his band sang at the 1933 World's Fair in St. Louis. As kids her two sisters, Margaret Ruth Rowser and Nancy Lee Rowser, and Sarah sang in the car to entertain themselves on trips. As a student Sara was always involved in chorus and played clarinet in the band. Her parents moved the family to Montrose, Colorado, in January 1959 and she continued with chorus, church choir and high school marching band.
After graduating from Denver University in June 1964, Sara got a job as a service representative for Mountain Bell telephone company. Sara got married to John Lesnefsky Jr. August 7, 1965, and gave birth to her first son, John Lesnefsky III, in August 1967. In October 1970, her second son, Warren Wayne Lesnefsky, was born. The family moved to Ouray, Colorado, in 1971 where she was again involved in community singing groups and community theater. Sara had a part in the chorus for the production of "Brigadoon" as well as "Charlie Brown" and she portrayed the daughter, Chelsea, in the production of "On Golden Pond." She was a member of the Ouray School Board for six years and AAUW for many years as well as other community activities.
After moving to Grand Junction, Colorado, in 1993, she continued her career with the United States Postal Service working evenings at the postal annex. She married her husband Tom in 1996.
They enjoy traveling visiting countries, including Spain, Portugal, Mexico, Costa Rica, Dominican Republic, Italy and the United Kingdom. In 2016 Tom and Sara undertook an amazing year's journey to Southeast Asia, including the countries of Cambodia, Thailand, Vietnam, Laos, as well as to Portugal and Paris, France. After retiring from 30 years of working for the Post Office in April 2005, Sara once again had time for her favorite hobby, singing. She joined the Sweet Adelines and enjoyed two years of performing with the group. She and Tom then moved to Puerto Vallarta, Mexico, in August of 2007, where they lived for about 9 wonderful months. They ultimately relocated to Las Cruces, New Mexico, where she learned to bead and also worked for Marshall's Department Store for 4-plus years.
She has two sons, one of whom, Warren Lesnefsky, lives in the Denver area and provided her with two grandchildren, one girl, Justine, and one boy, Evan. Her oldest son, John Lesnefsky III, lives in Roseville, California, and has two children, a boy Kazimir and a girl Lana.