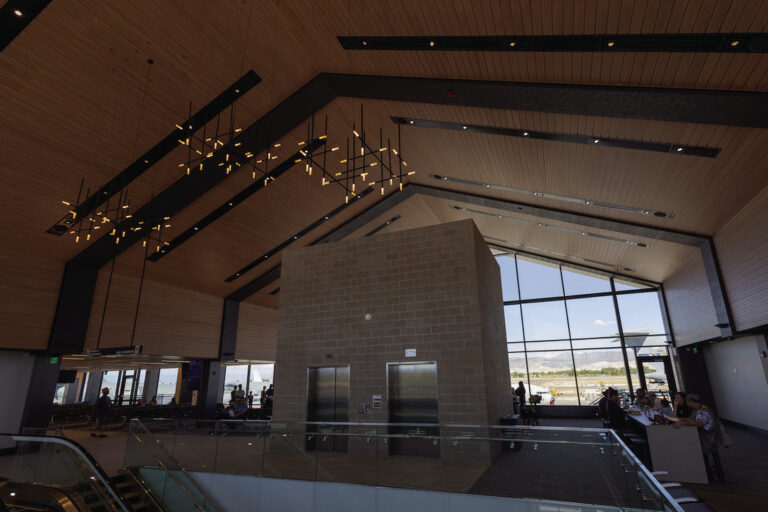 Airport reaches new heights
Propelled by record passenger numbers, Montrose Regional unveils $38M expansion
From a practical standpoint, there's a lot to like about the $38 million expansion at Montrose Regional Airport.
Nearly triple the paved parking spaces means less fretting over finding a spot as travelers hurry to catch their flights. Dozens of electronic charging stations ensure passengers have plenty of juice for their phones and laptops. And for the first time in December, the airport will feature two passenger loading bridges, which for customers of American and Southwest Airlines means grounding the days of braving blazing heat or freezing cold walking across the tarmac in order to board the plane.
But if you ask longtime Director of Aviation Lloyd Arnold about his favorite aspect of the project that took seven years to plan and two years to build, he'll lead you up the first escalator in a public building in Montrose County to a new, second floor concourse on the north end of the terminal. There, you'll be greeted by gable roofs with floor-to-ceiling windows boasting unobstructed views of the Black Canyon to the east and the Uncompahgre Plateau to the west.
It's been quite the ascension for Montrose Regional Airport the last few years, capped this fall by a comprehensive remodel and expansion that doubled the terminal space to 75,000 square feet. The project features a more spacious baggage claim area, expanded lounge area for passengers and airport administrative office space, several more restrooms, and a room for nursing mothers to have privacy. It also tacked on four more airline ticket counters for a total of 14, ensuring the airport can add airlines and destinations in the future.
Arnold said the expansion represents a fine balance between keeping up with increasing service demand and anticipating future growth without overextending.
"We just want to manage growth," Arnold said. "You want to be able to add demand but you don't want to have too much capacity."
The expansion also features the addition of a second restaurant operated by Horsefly Brewing, a bar area operated by Shelter Distilling and indoor and outdoor fireplaces.
"We have greatly enhanced our customers' experience," Arnold said.
The project, funded primarily by revenue generated at the airport and federal grants, was fueled by a surge in passenger traffic in the last several years. In a 15-year period from the early 2000s to the mid-2010s, enplanements at Montrose Regional alternated between inching up, flatlining or actually declining, sitting somewhere between 70,000 and 90,000. Passenger traffic grew steadily in the mid- to late-2010s, then accelerated. Enplanements increased from more than 159,000 in 2019 to more than 193,000 in 2021, then surged another 40,000 to more than 233,000 last year. The airport is on track to exceed 250,000 enplanements this year. Three of the four biggest months of passenger traffic in the airport's history occurred this year.
That means more people than ever are walking past the city of Ouray's advertisement inside the airport promising Ouray is just "one turn away from MTJ," the FAA identifier for Montrose Regional.
For the first time ever, passenger traffic at Montrose Regional exceeded that of Grand Junction Regional Airport in 2022, despite the fact that Mesa County has three times the population compared to Montrose County. That makes Montrose Regional the busiest airport on the Western Slope, with enplanements and deplanements totaling 463,140 last year, compared to 460,402 for Grand Junction.
With the help of the Colorado Flights Alliance, a public-private partnership providing minimum revenue guarantees to commercial carriers, Montrose Regional has added carriers and destinations in recent years. It scored a major victory in 2020 when it brought aboard Southwest Airlines — and with its daily flights in the winter to Denver and Dallas and once-a-week flights to Austin, Texas, in March.
Montrose is the only airport on the Western Slope featuring flights from Southwest and Delta Airlines.
The airport in Grand Junction, meanwhile, lost its daily Delta flight to Salt Lake City last year, leaving the airport with just three carriers.
"We pay attention to our customers — what our customers want, their needs," Arnold said.
More work remains on the horizon. An expansion to the south will create more baggage processing areas for the airlines. Plans call for a sheltered bus station, located south of the terminal. And within three years, the airport plans to build a signalized intersection on U.S. Highway 50 to help traffic flow into and out of the airport.