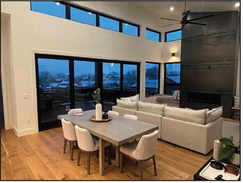 Fundraiser features tour of unique Ridgway homes
Ouray County residents have the chance this weekend to tour some of Ridgway's most unique homes while helping a nonprofit organization make sure others have a chance to secure their own residences.
The second-annual Home Tour on Sunday gives the public the chance to tour four homes in Ridgway while enjoying food and drink and listening to local musicians.
The event is sponsored by the Home Trust of Ouray County and Alpine Bank and is a fundraiser for the Home Trust's affordable housing projects.
After last year's inaugural event toured four properties in Ouray, this year's Home Tour will take participants to four unique homes in Ridgway, noted for their artistry and craftsmanship, including one of the first strawbale homes. Participants will enjoy appetizers and sweets, sip wine and spirits and listen to music from local musicians Jacob Raab, Lanaé Pierce, Kenny Mihelich, David Nunn and Doug and Heather.
The Home Trust was founded in 2020 to provide permanent affordable housing and housing-related resources. The nonprofit earlier this year purchased a six-unit apartment complex in Ouray to ensure it remains affordable and is working on three other projects in Ouray County: a for-sale duplex in River Park in Ridgway, a 13-unit rental project on Oak Street in Ouray and a 14-unit rental building and child care facility on Sherman Street in Ridgway.
Tickets are $75 each and can be purchased at bit.ly/ HomeTour23.
If you go
WHAT: Second-annual Home Tour WHEN: 1-4 p.m. Sunday WHERE: Four homes around Ridgway. Tour packets available for pickup from noon-1 p.m. at Space to Create, 675 Sherman St.
WHY: $75 each, available at bit.ly/HomeTour23