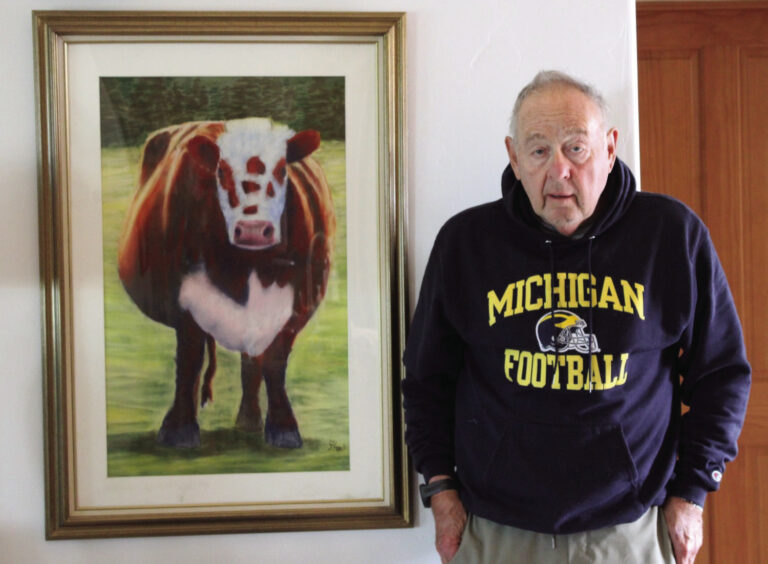 Spotlight on the Arts: Floyd Day
Floyd Day's artistic muse hasn't always been cows, despite drawing and painting nearly 1,000 of them since moving to Ouray County in 2000.
Before moving to Ridgway with his family, before he considered himself an artist at all, Day was a civil engineer who taught himself to draw by sketching cartoons out of the newspaper. He expanded his medium from pencil to charcoal over the years, creating art whenever he had free time at home alone, and he began using pastels nearly 30 years ago after a friend gifted him a set during a month-long illness. After retiring, he began painting for at least one or two hours every day.
"I've always drawn nature scenes," Day said. "I painted dogs and horses, and when we lived in South Carolina I painted water birds, herons and egrets. We came out here around 2000 and my wife started painting wild horses, so I thought, 'I'm going to do the cows and ranches out here.'" Day was drawn to cows – specifically the beef cattle that graze on ranches throughout Ouray County and the San Juan Mountains – because of their unique personalities, which shine through whether they're strutting through fields, shaking their heads or nursing their young.
Day finds his subjects by simply driving around the county, including along County Roads 5, 23 and 24 and Last Dollar Road.
He'll take dozens of photos of the animals that catch his eye, then drive to higher elevations to take photos of backdrops he might include in his work, before going home to sort through his photos.
Out of about 40 photos of cattle, Day will narrow it down to five or so potential subjects before painting one or two, he said.
Sometimes he comes back to the same animal several times, like a bull who is featured in four pieces in different postures. While Day isn't secretive about his love for painting some of Ouray County's largest residents, he hasn't talked about his paintings with the ranchers and workers he encounters out in the field. He doesn't even share which ranches the cows are from – until now.
At an upcoming show at the 610 Arts Collective, Day said he will highlight the different ranches his muses come from, which include Fisher Ranch, Wolf Cattle Co., Weber Ranch, Last Dollar Ranch and Ferguson Family Ranches. The show will also include pieces featuring local wildlife such as elk, moose, bighorn sheep and turkeys.
"This show is my impression of our area. We're kind of divided between mining, hiking and jeeping and ranching, and I think the ranching area is a really fantastic place between the cows, horses, elk and deer. It's a beautiful place," Day said.
The show opens at 5 p.m. Sept. 1 at the gallery at 610 Clinton St. The opening reception is free to attend.