From the publisher: Bear with us during this bumpy transition
Readers, we owe you an apology.
We knew the transition to a new website and a change in our e-edition delivery system and format might be a little bumpy.
But I promise we did not know it would be so rough last week.
Those of you who were looking for your e-editions in your email boxes on Wednesday night – I'm sorry. You have become accustomed to receiving the digital edition of the paper the night before it is published in print, while it's still printing at the press. Technically, we publish on Thursdays, but we have sent you the e-edition the night before as a kind of perk to subscribing to the e-edition. That didn't happen last week and boy, did we hear about it.
Those of you who read the printed paper thankfully didn't notice. That was our goal – to keep the paper high-quality and delivered to you on time as we struggled behind the scenes.
To try to make the transition smoother, we removed our paywall and offered complimentary access during this time. We'll move back to requiring subscribers to log in to the website this week. If you haven't done so already, you'll be asked to login again during this transition over to the new website.
About the upgrade … we didn't make the change just because we thought it would be fun, or we had extra time on our hands (those of you who know us can attest). Our goal is to move to a website that can serve you better, along with an app you can use on your phone to read the paper more efficiently. For you techie people out there, we moved to a WordPress-based website, which should play better with other programs and apps we can use to improve everyone's experience.
I get it – you didn't find last week's experience more efficient. Neither did we. But we hope we can all figure this out and it will be better overall, soon.
We didn't receive any training materials for readers from the companies helping us with the transition. We're not tech people – we're journalists trying our best to run a business. And so we're figuring this out with all of you, unfortunately.
We are also trying to pack up and move our office to a new location in the midst of this. Good news – the Plaindealer will have a permanent home in Ridgway (more on that later). But all this has created a bit of a challenge for us and, I promise, we are doing our very best to keep going, week after week. It's not as if we can just say, hey, we're closed for renovations.
There's one positive side to this situation – we know you care, and that you're invested.
We heard you. You missed your e-edition on Wednesday night. And you didn't like the change to the new e-edition platform.
There are many more bells and whistles on this new e-edition format, but many of you just want to know how to download a pdf of the paper.
Here's how to do that – it takes two steps and I'm including screenshots here to show you how.
First, click on "pages." .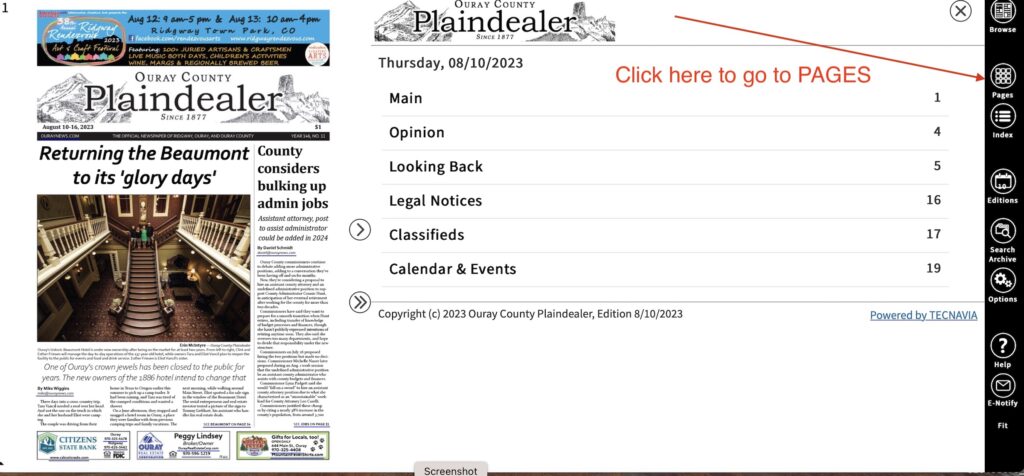 Then, click on "download complete edition" and you'll be able to download a pdf.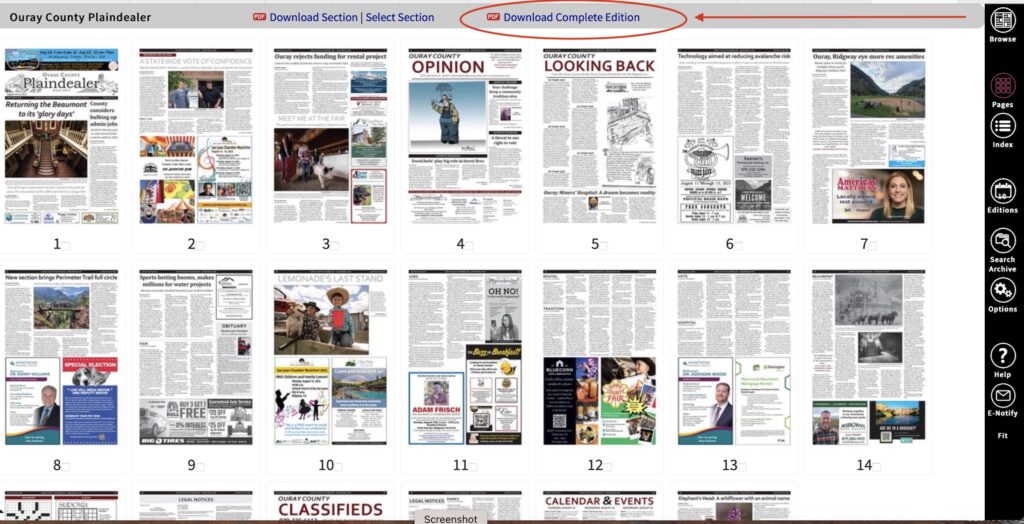 As we learn more about our new website and e-edition platform, we'll share it with you. In the meantime, please explore it. You can't break it on your end. Play around – that's how we are figuring it out. Be curious.
Change is difficult. We understand that, as the owners of the oldest business in the county, who did this crazy thing four years ago and invested in your community newspaper. The only constant has been change, for us. Mike can tell you I've often said, "If it wasn't this, it would be something else," and so far, that has proven true.
Thank you for understanding the situation and our intentions to ultimately serve you better. We also thank you for your patience and for continuing to read the paper, in whichever format you choose.
Erin McIntyre is the co-publisher of the Ouray County Plaindealer. Email her at erin@ouraynews.com